With the ever present threat of attacks against Earth by hostile aliens every time the twit running the Trumpleforeskin movement beams an insulting tweet, now is not the time to be meddling with America's Space Force.
The slaughter could be incalculable if Secretary of the Air Force Heather Wilson gets sacked from Space Force without ever deploying a single death star. What kind of Space Force doesn't have a death star? Even Latvia is considering building one.
"We are going to have a Space Force," Trump said in Washington D.C. last August amid snickers and guffaws by his generals. "An Air Force and a Space Force. Separate, but equal."
It is reported in some circles that Wilson not only doesn't have a death star, she doesn't even want one. She thinks Space Force is stupid, duplicitous and costs too much. Her job is administering the largest air force in the world, but it tends to hang around Earth.
That doesn't mean airplanes aren't important. The United States can surely put a whipping on somebody with its 12,000-warplane air force. Especially once we get those 2,500 new ones we already borrowed $400 billion to pay for. Until there are some aliens that need a trim.
Secretary Wilson hasn't got time for Trump's space war nonsense. The Air Force is already "responsible for 90 percent of America's military space assets," and the military was "dramatically increasing" its space budget this year, Wilson said recently.
Trump is reportedly beside himself at her insolence. Air Force Academy grads are supposed to snap to attention, yell "yes sir" and march off to duty. She spent seven years marching around after a brilliant academic record as a Air Force Academy standout and Rhodes Scholar. She knows a thing or two about marching to a different drummer.
"She didn't even fly fighter jets, what kind of ma'amazon is she supposed to be?" Trump perhaps asked his new best friend Brett Kavanaugh. They knew how to deal with that kind of crap back in prep school.
Trump can't share such intimate secrets with his new lover, Little Rocket Man. Their relationship is a highly personal one, a platonic-optional relationship like the Spartans had, except with Skype. Very kinky!
Meanwhile, Vice President Mike Pence goes around whispering that Wilson's okay unless Trump is nearby, even though he won't eat alone with her. Pence and Wilson worked together in Congress on conservative issues like trimming Meals on Wheels and other drags on the national spirit. Ever since Pence almost got The New York Times' "Trump's a nut bag" op-ed pinned on him, he's been nervous. Turned his hair white overnight.
Word on the street is that Ol' Trumpleforeskin wants Wilson's head in a basket for being disloyal. No matter that Space Force is a projected $13 billion boondoggle. Her desperate situation gives a new meaning to Spartan women's  "come home with it or on it" admonition for their husbands to hang on to their shields. Tough love! One conservative voice said Wilson could be fired after the midterm elections for attempting to "undermine" the Space Force initiative.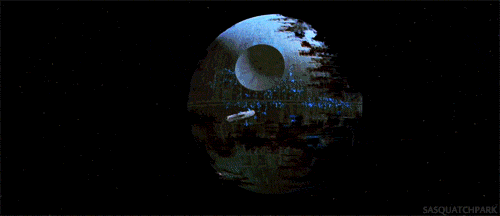 The extra dry magazine Foreign Policy reported that Deputy Defense Secretary Patrick Shanahan is maddened by Wilson for "trying to undermine this part of the president's agenda from within."
Wilson, who pretends to support the spaced out proposal, said in September she was in "complete alignment" with Trump's plans, according to the magazine. That's the same thing Secretary of Defense Jim Mattis said.
"We are in complete alignment with the president's concern about protecting our assets in space that contribute to our security, our economy, and we're going to have to address it as other countries show a capability to attack those assets," Mattis said last August 7.
Already the U.S. has a fleet of satellites that can zoom in close enough to read your mail. No one is saying what the other 90 percent are doing up there, but ostensibly, there's not much offensive capability, and some people would have you believe we need a few more ray guns.
Toward that end, a memo from Wilson has been leaked estimated that the launch of Space Force would involve 13,000 people and cost $13 billion over five years. But in reality $13 billion is chicken feed, a new aircraft carrier costs $13 billion. The Death Star would probably cost an arm and a leg off every American's first-born until the 22nd Century.
The White House told news outlets last month that "no decision" has been made regarding Wilson's future, but an Alabama Republican, Rep. Mike Rogers, "has been a vocal advocate for a separate military branch looking into space," according to Foreign Policy.